January 15, 2019
Vancouver's Caffè La Tana Channels Old World Beauty
Designer Craig Stanghetta, founder of local firm Ste. Marie, wanted to authentically evoke the atmosphere and look of a Italian café and grocer.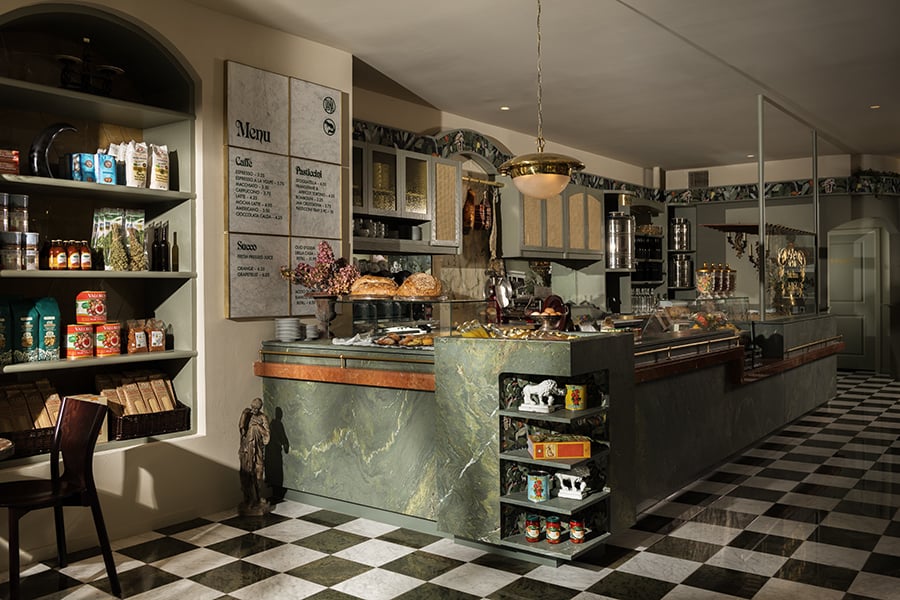 ---
When Craig Stanghetta set out to design East Vancouver's Caffè La Tana, the acclaimed designer and restaurateur wanted to create the kind of Italian café and grocer he discovered on trips to Rome, Florence, Venice and Milan—and he wanted to do it without a modern twist.
"We wanted it to be defiantly old-world, where you feel like you're not even in North America anymore, let alone Vancouver," says Stanghetta, sitting in a cozy corner banquette on a stormy winter afternoon. What he loved most about those places was the sense that they had been carefully curated and layered over time. "But they never felt haphazard or disorganized," he explains. "They're very meticulous in their excess."
The same could be said of La Tana. Packed tightly with small marble-topped tables, bespoke shelving lined with Italian groceries, and a glassed-in station where customers can watch fettuccine, orecchiette, tagliatelle and other pastas being made by hand, the densely-designed café features all kinds of eye-grabbing elements, but never feels cluttered.
---
More from Metropolis
---
Many of La Tana's elements came courtesy of longtime collaborators who contributed to the project despite its tiny scale. A favorite antique dealer unearthed a vintage light fixture from Italy, old military wine decanters (also from Italy), a weather-beaten map that traces trade routes from Venice to the new world, and an Italian mirror that provides a striking focal point. Additionally, a three-generation Italian family business provided small sculptures and a rosette for the ceiling while the contractor made the marble tables and menu board. A Vancouver artist hand-painted a fable-inspired scene for the tiles that line the wall behind the cash register.
The café's color palette is simple and unapologetically old-world, with the plaster walls, custom banquettes, and marble counters all a rich hue of green, with accents in a classic cream. Custom wallpaper and artworks, created in Stanghetta's Vancouver-based Ste. Marie design studio using public domain imagery and adorned with gold leaf, line the walls.
"We looked at the work of early Italian and Danish modernists like Adolf Loos and Carlo Mollino, which is crazy romantic, really celebrating the extravagant beauty of natural stone, and then mixed it with that old sort of plaster and tile work," says Stanghetta as customers come and go from the buzzing eatery, buying coffee and Italian pastries, or picking up fresh pasta for dinner. "And everything is more detailed," he says, running is finger along the scalloped edge of a plate. "We just leaned into that completely."
The café is the daytime companion to next door's Pepino's, an Italian restaurant that Stanghetta and partners Mark Perrier and Paul Grunberg overhauled after the legendary Nick's Spaghetti House—which occupied the Commercial Drive site for 62 years—closed its doors.
Both are linked to Stanghetta's hugely popular Savio Volpe, an Italian osteria named for its imaginary patriarch, the Wise Fox. La Tana, which is Italian for "The Den," is the fox's cozy home—a place where he is more hidden, but can still be found in subtle design details: on the menus, in the botany-themed wallpaper, on the front door.
Stanghetta hopes La Tana will become a hub for Italian goods and education, and one that fosters relationships, and possibly even product collaborations and staff exchanges, with suppliers in Italy. From the start, he recognized that attempting to design an old-world café is a risky venture: It can inspire a sense of nostalgia, but when it's not done well, it can easily read as inauthentic. "I didn't want to make something fake. I didn't want it to be a set design. I wanted to honor that integrity and the emotional perspective," says Stanghetta, who began his professional life in theater and has since designed many of Vancouver's top restaurants, among them St. Lawrence, Botanist, Kissa Tanto, Bao Bei and Ask for Luigi.
"We make that pasta every single day from scratch, and it tastes better. It just does. That's all there is to it," he adds. "And you can do that with spaces as well. You can use these old materials and honor them and let people feel like they're stepping outside of their normal Vancouver lives. I love that."
You may also enjoy "Masa, a New Café by Studio Cadena, Uses Simple Shapes and Materials to Bold Effect."