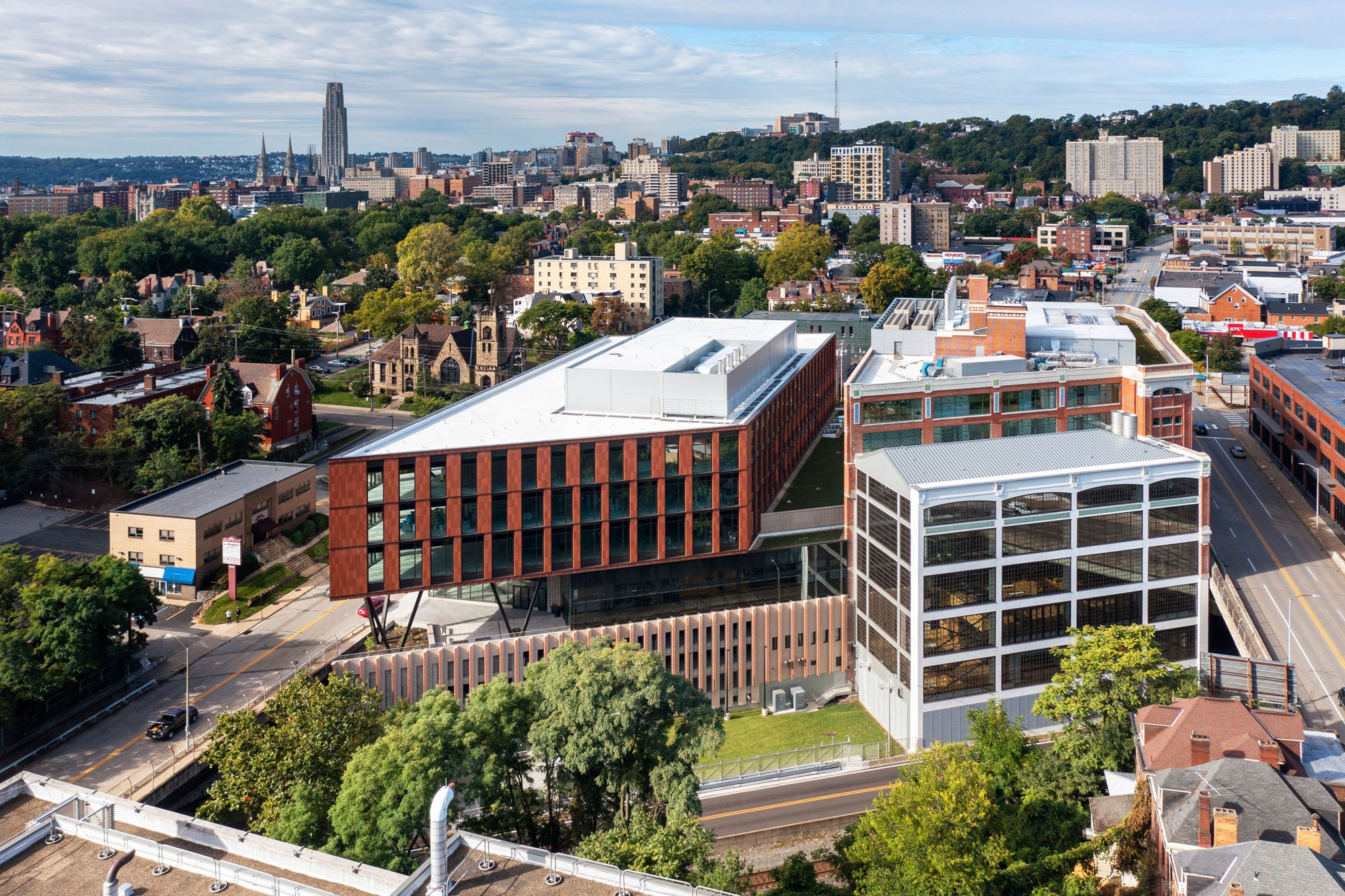 January 23, 2023
Building Pittsburgh's Med-tech Future on an Industrial Past
A landmarked 1915 auto assembly plant in Pittsburgh, Pennsylvania, has been transformed for the production of medical science. After emerging from restoration by ZGF Architects the site will house research facilities for the University of Pittsburgh Medical Center's School of Medicine, the University of Pittsburgh Medical Center's Hillman Cancer Center as well as private tenants.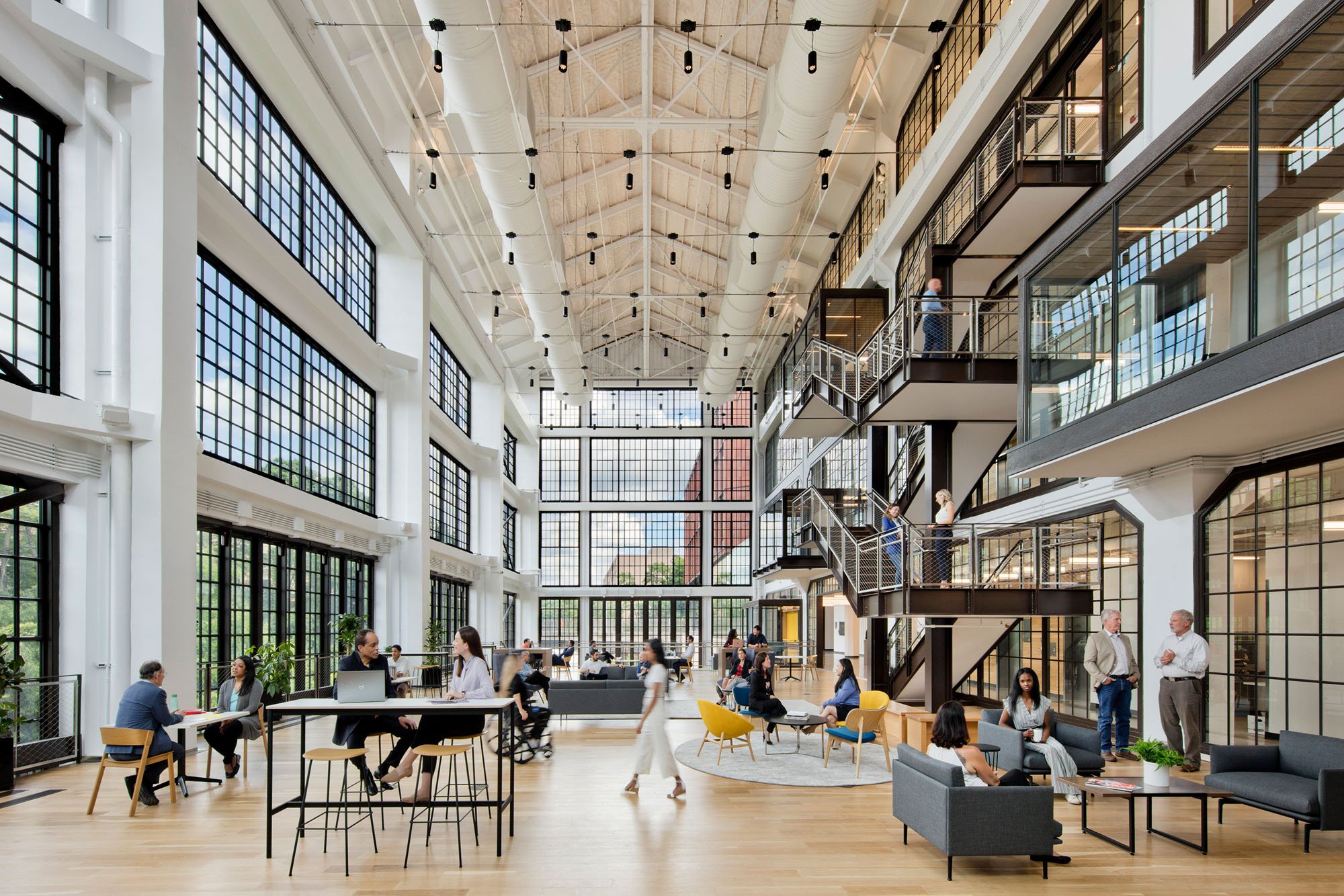 An Auto Manufacturing Landmark
Once part of the city's automobile row on the border of its Shadyside and Bloomfield Neighborhoods, the facility was designed by Ford's corporate architect John H. Graham Sr. and was used to assemble and sell Ford Model Ts until 1932. Ford maintained the plant for other uses until 1953 when the automaker sold it. From the 1950s on it was variously used as a textile manufacturing plant, a part supply store, and often sat empty. However, the hulking structure has recently been revived and a new addition added thanks to the Pittsburgh's recent technology resurgence.
The 524,366-square-foot complex, now dubbed The Assembly and accentuated by a new office structure is a project of Wexford Science and Technology, a real estate development company that works with medical, research, and institutional clients. The UPMC tenants began to occupy the older building in early 2022, and a private partner is still being sought for the new building.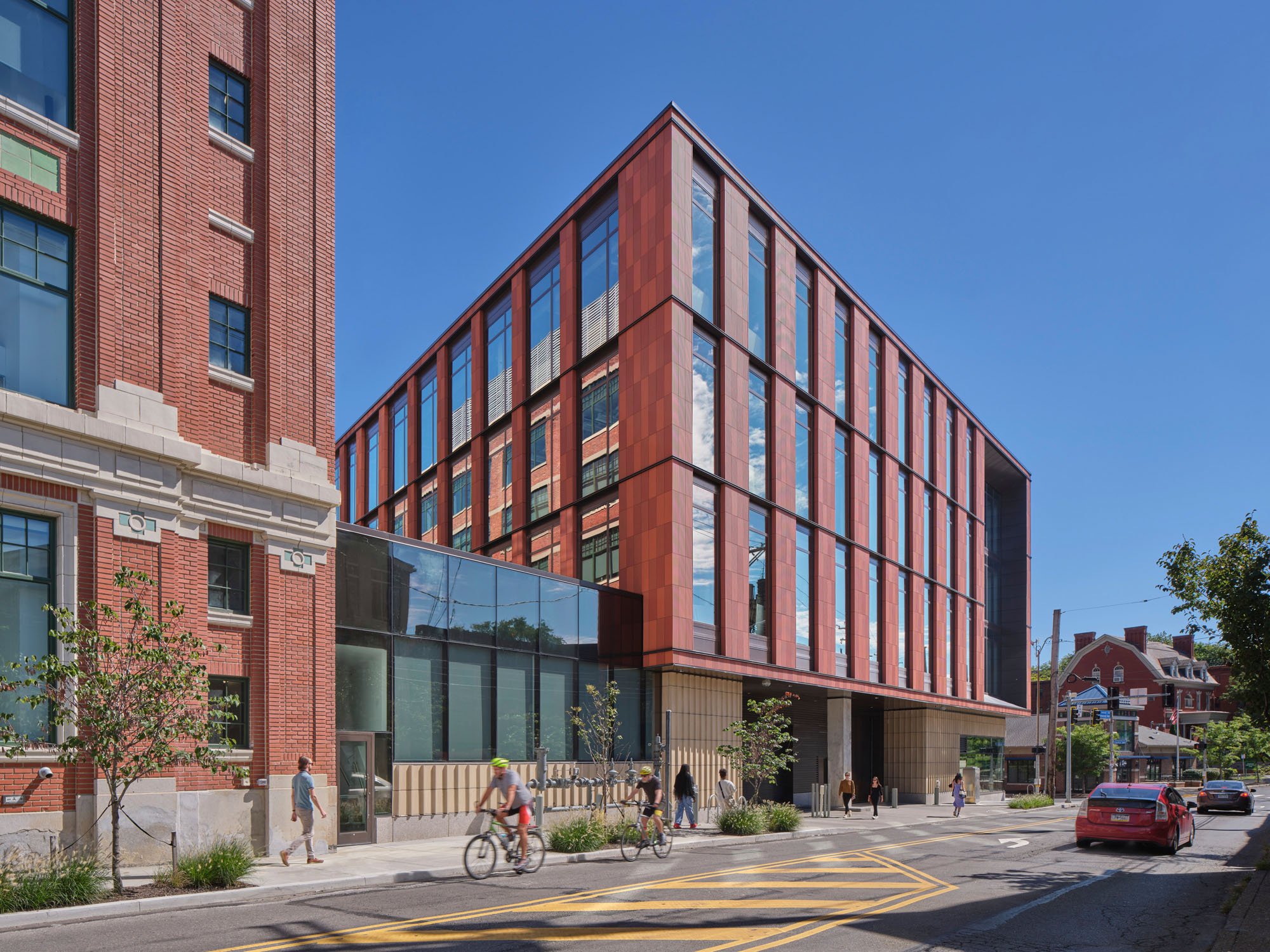 Wexford has made a specialty of projects that bring academic research together with commercial tech and pharmaceutical ventures, and ZGF has designed several of them including One uCity, a laboratory and office space, and 3737 Science Center, a clinical, research, and office building, both in the University of Pennsylvania School of Medicine's University City development.
---
More from Metropolis
---
Keepsakes from an Industrial Past
Working with a piece of history was an attraction for ZGF, especially the building's standout space, its 8-story crane shed, originally used for hoisting parts brought in by railroad to various floors for assembly. Deanna Keil, principal at ZGF, explained, "We saw a great opportunity in celebrating the expansiveness of the existing space."
The gantry crane atop the space remains, if the exterior curtain wall for the crane shed required replacement (the remaining train tracks had to go as well). Cantilevered extrusions once used for receiving parts are now glassed in as seating pods. A sense of spaciousness remains—with no need to duck crane-hoisted front axles.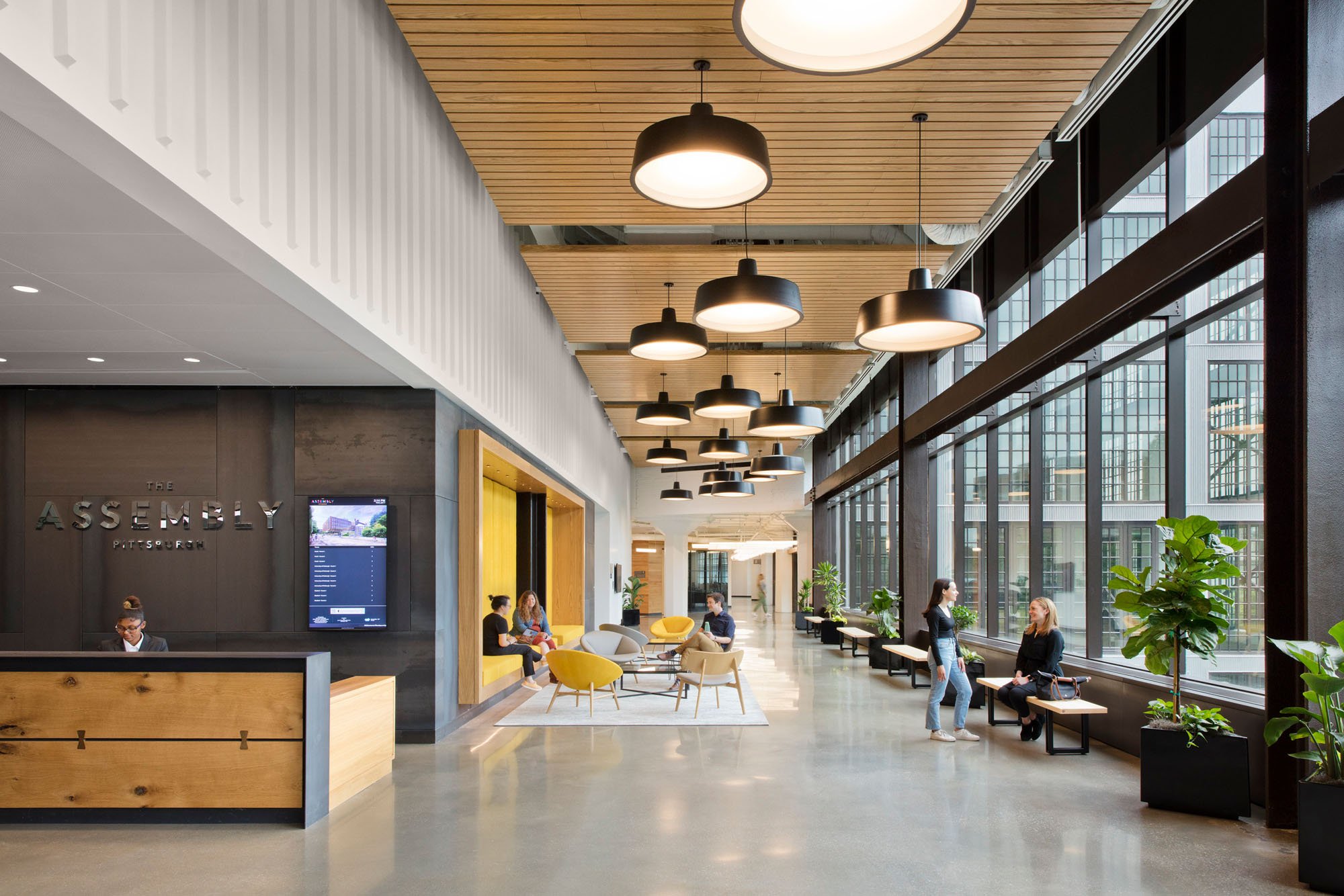 They did face acoustical challenges in a huge volume lined by brick, glass, concrete, and steel–that still abuts active railroad tracks and a busway. To mitigate noise, the designers employed duct wrapping and a seamless acoustical plaster system on flat surfaces throughout, and used white oak to finish the floors, both to soften the space visually and reduce echo.
The space will be useful for events and rentals, but also provides a valuable day-to-day function of orientation and wayfinding in a building whose two principal entrances are a floor apart and on opposite sides of the building.
Other original Ford building elements provide great character to the space. "Exposed octagonal columns became features to celebrate and in some cases are really defining the architecture of the space," said Keil. These mushroom-capped columns provide character wherever they're to be found.
The building was a brownfield site but happily not overly brown–some abatement was required but the contamination was not too severe. Brick elements required touching up, some replacement, refacing, and repointing. There was some structural evaluation and selective demolition otherwise, with elements replicated, but the original structure largely remained useful and remains intact.
The original showroom remains in great shape, with tile floors in excellent condition and original globe lights refurbished (these have been replicated elsewhere as well). Original stairs and railings are still around, too. "We strived to celebrate these original elements so that building occupants feel the sense of its history," Keil explained. Other artifacts from the building's industrial past include an original filing cabinet and plentiful historic photos, along with an original garage door that's not currently operable but could be someday.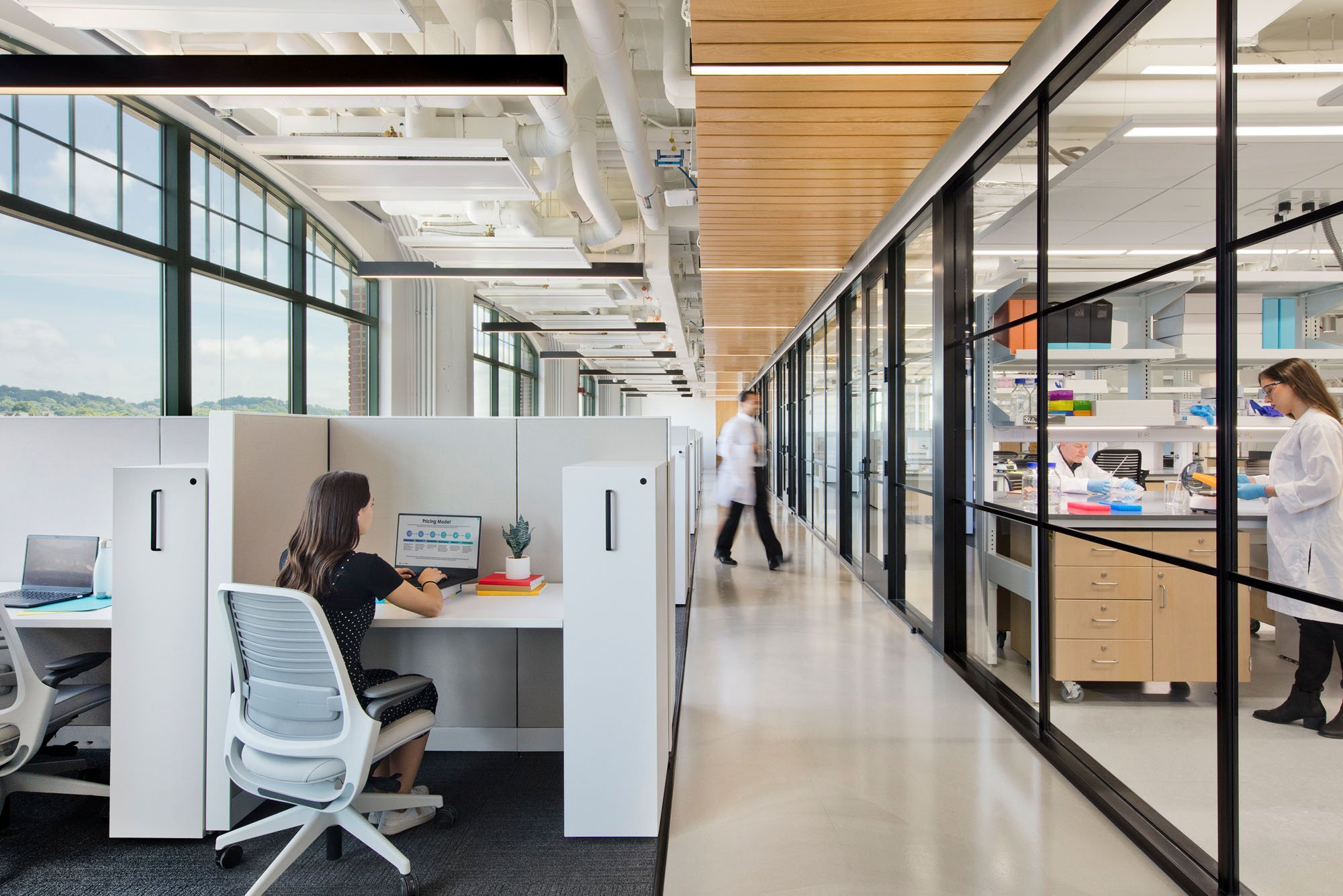 Supporting Pittsburgh's Health Care Future
The University of Pittsburgh's School of Medicine is shifting research facilities from elsewhere to The Assembly, so it was important for the architects to design the new building o supplement, rather than duplicate, existing resources. "We spent a good deal of time surveying their existing research spaces and interviewing research teams to get a sense of what they were currently working with and how we could help them plan for flexibility and future research practices," recounted Keil.
The Hillman Cancer Center, whose nearest facility is just across the railroad tracks, viewed the space as "a recruiting tool" Keil, said, "so they're looking forward and asking, 'What is the next generation of immunological and cancer research?'" The design incorporated a variety of open plan, private office, and conference rooms, as well as an auditorium with seating for around 260 persons in the new building faced by a portion of the exposed brick former exterior wall of the Ford building.
The Assembly is a biomedical research facility containing multiple wet lab spaces, which requires more complex planning than most office buildings. Keil explained that because of its research program the building required "robust" mechanical, electrical, plumbing, and ventilation systems that had to be inserted lightly into a historic frame. "In order to attain historic tax credits, we had to keep new architectural and engineering elements 3 feet away from the existing building envelope, everything from ductwork to lighting fixtures to walls to furniture," Keil said. Also, a certain percentage of interior elements could not be affixed in any permanent way. She continued, "So if you were essentially to turn the building upside down and shake it everything that falls out does not comply."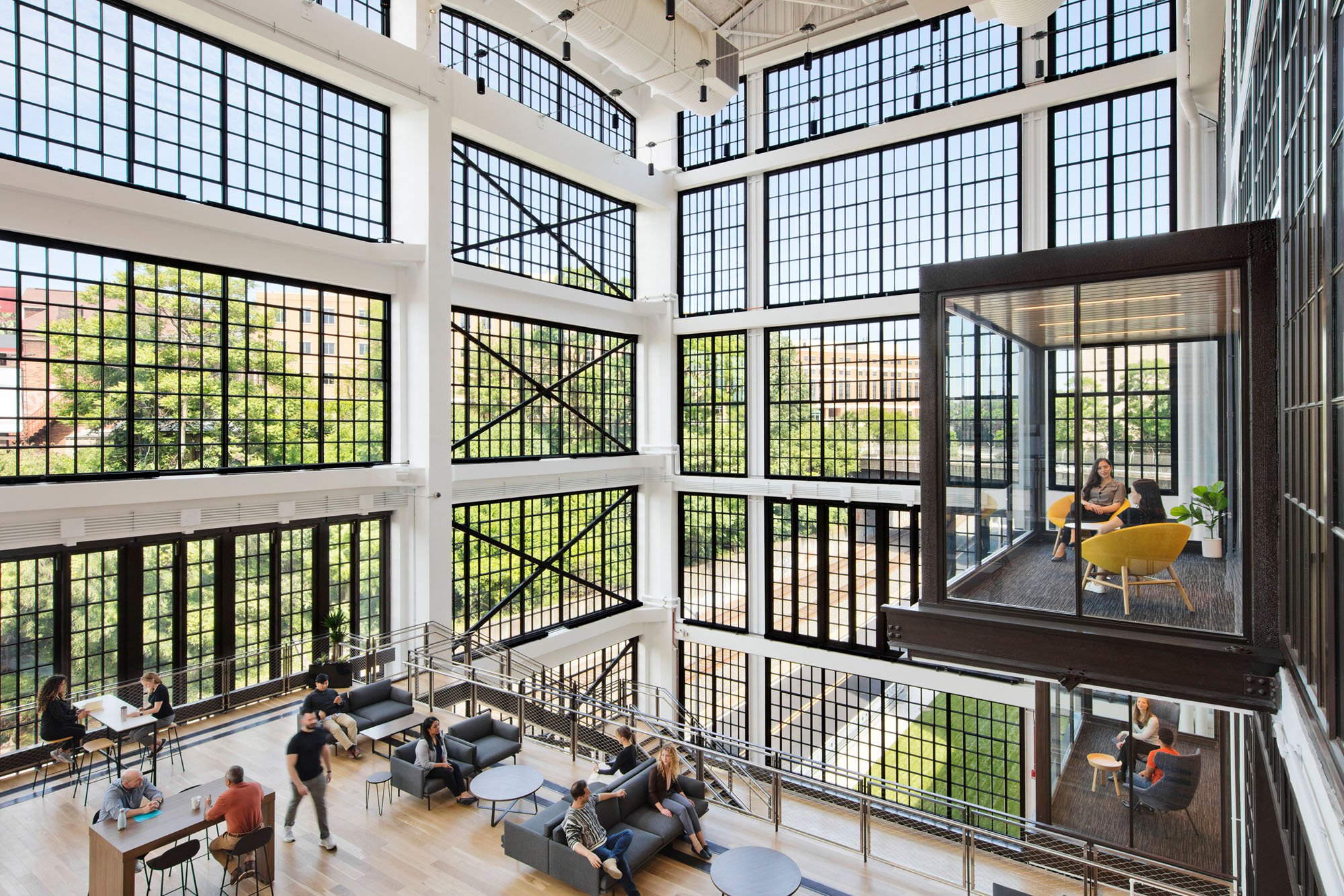 Their new building, faced mainly in glass but also with terra-cotta panels that are intended as a nod to the original brick Ford Building, sports a more contemporary look, with its upper three floors overhanging diagonal entrance setbacks. The geometry is irregular, to maximize the rentable floorplate on an oddly shaped site. 325 vehicle parking spots (as well as parking for 116 bicycles) are inserted into a garage beneath. There's a green roof deck between the old and new buildings at the third level, designed to provide light and some greenery.
By building both inside the historic structure and adjacent to it, Keil says the design team were able to "not only push the bounds of sustainability and performance but also celebrate the rich industrial history and sense of community in the city."
Would you like to comment on this article? Send your thoughts to: [email protected]