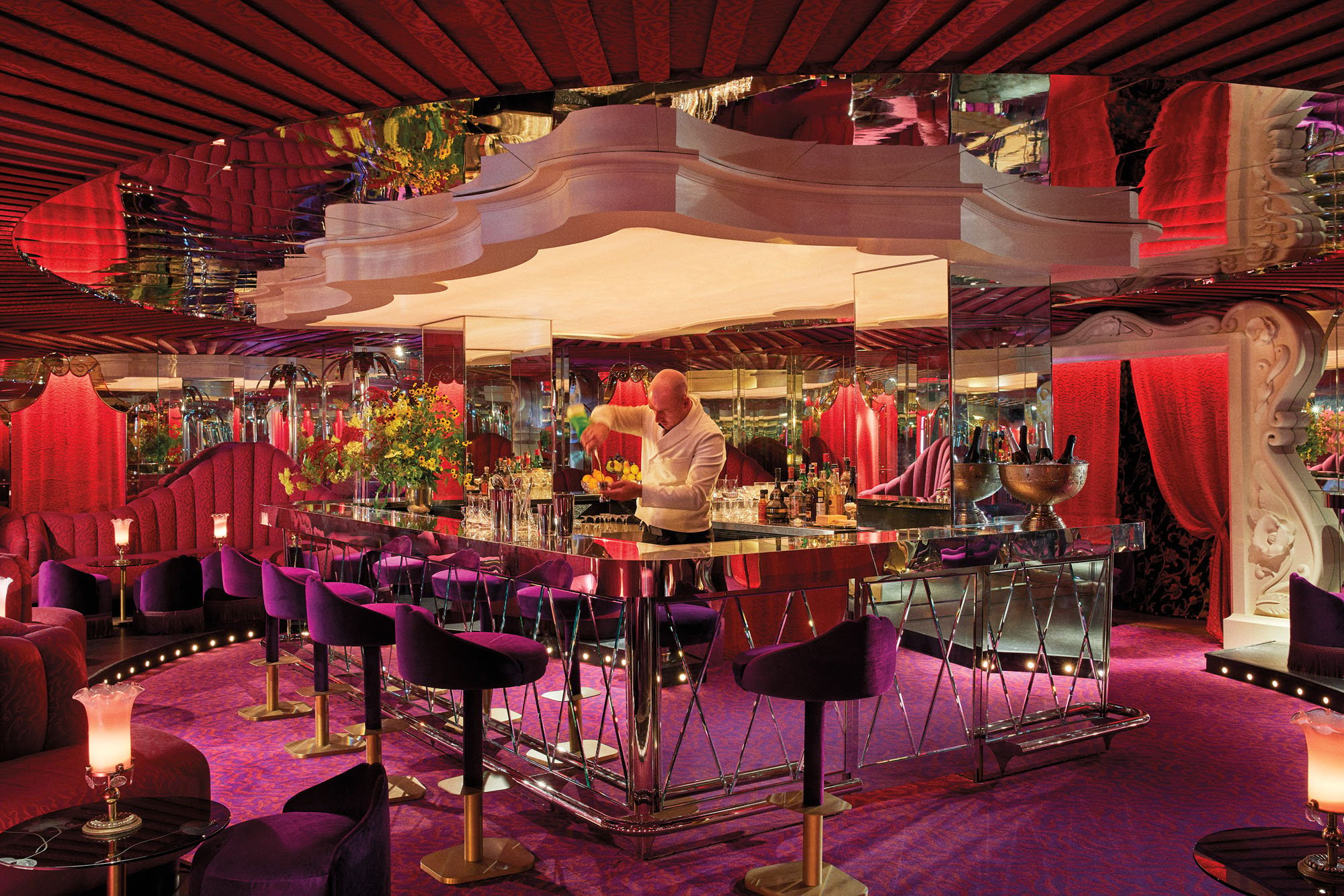 April 3, 2023
Eclectic Maximalism Is Taking Over Hospitality Interiors
There are works of fiction that offer a brief respite from the mundanity of everyday life, and then there are novels and films that transport you to completely new worlds, leaving a permanent impression on the audience's sense of what's possible. A skillfully designed hotel does the same thing, centering each guest as the protagonist of a meticulously crafted universe in which the designer's palette of objects and materials, just like a writer's words and sentences, lends meaning to the narrative. A slew of new hospitality projects lean into this idea, crafting romantic interiors that blend fact and fiction, taking on novelistic and cinematic dimensions while paying close attention to local context and history.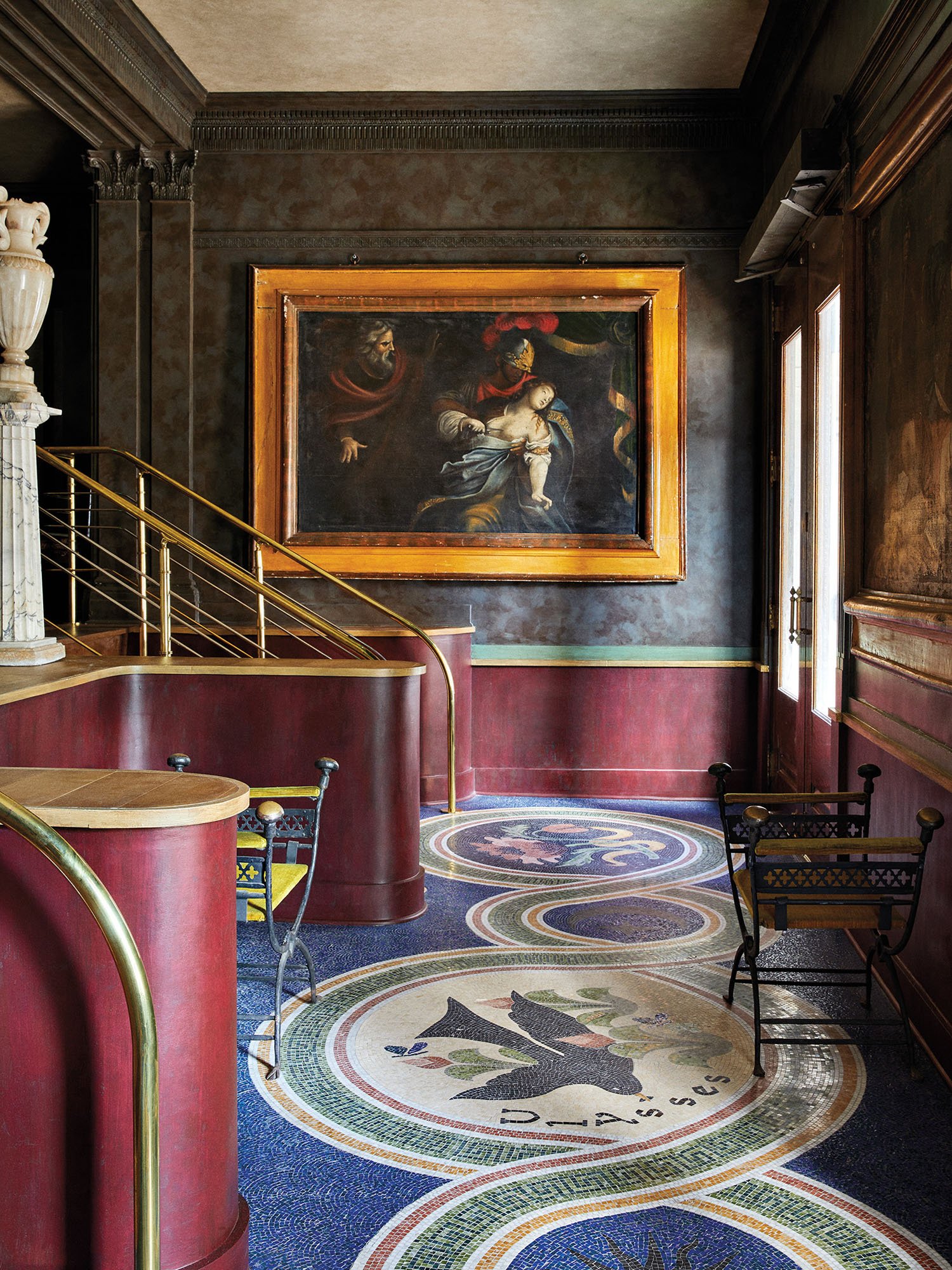 Inside the Over-the-Top Interiors of the Ulysses Hotel
It's hard not to feel a type of magnetic #MainCharacterEnergy once inside the maximalist interiors of Baltimore's new Ulysses Hotel. Designed by ASH NYC and located in a 1911 building within the city's historic Mount Vernon neighborhood, Ulysses, like ASH's other three properties, functions as what the firm calls a "cinematic monument." Serving as "both the stage and the performance," the hotel's design doesn't allow for passive participation. Rather, the interior serves as a set for guests to act out their own fantasies, each space drawing awareness of guests' every move. Indeed, Ulysses's over-the-top spaces feel as though they were designed with the elements and techniques of cinematography in mind: Attention to angle and movement, continuity, composition, and dramatic lighting all contribute to dynamic, image-driven interiors that walk the tightrope between glamour and kitsch.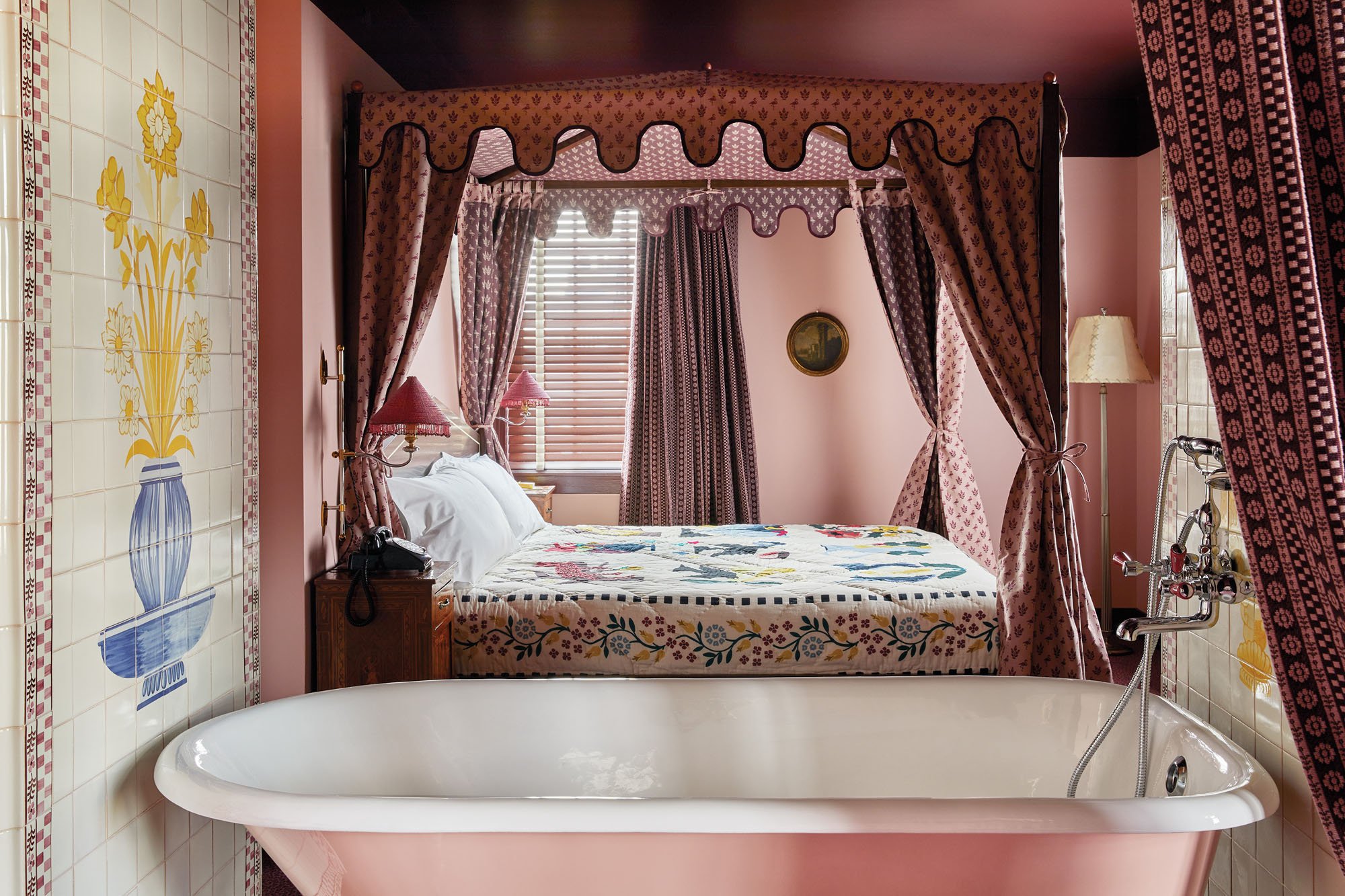 There is a level of self-awareness here that many hospitality experiences get wrong or ignore. One of the most striking spaces in the hotel is Bloom's, an exuberant cocktail lounge opulently outfitted in velvet upholstery, mirrored surfaces, and Hans Hollein-esque chrome-sheathed palm trees. A round ceiling mirror is layered atop a red tented ceiling treatment and reflects the lounge's central bar and serpentine booths that are raised on a stagelike platform. All these details recall the elements of entertainment architecture across time, from 19th-century circus designs to Las Vegas casinos and the mirror-clad guest rooms of the 1950s honeymoon resorts that once dotted the nearby Poconos. This PoMo collage of material-driven allusions is key to the hotel's aesthetic. ASH's Will Cooper tells Sight Unseen that Ulysses's interiors can be summed up as "Paris, Texas, Disney's Epcot Center, the purple and red robes of the papacy, and the limpid insides of a ripe plum."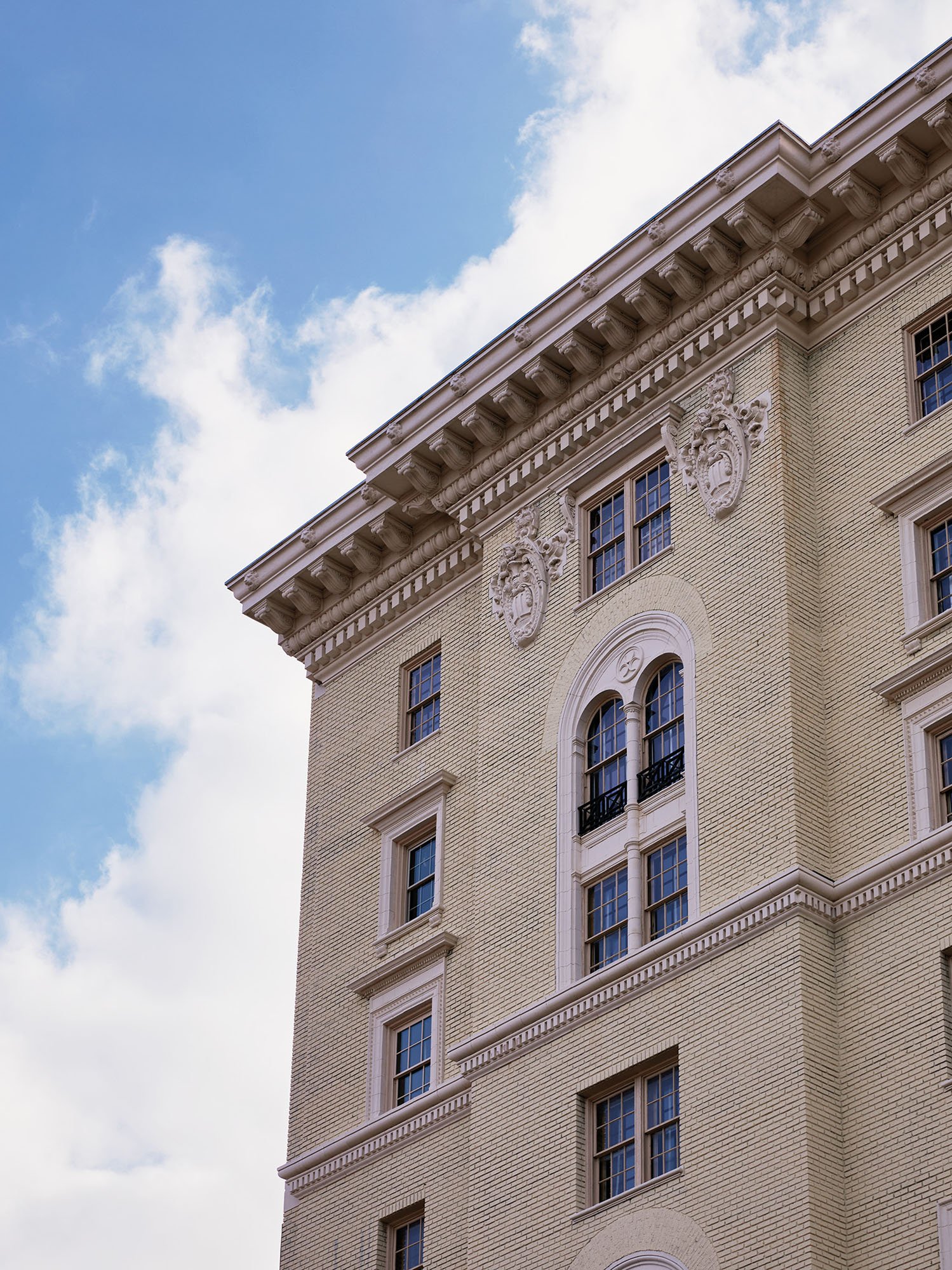 But context is not lost in the fantasy. The references aren't random, but a carefully constructed balance of high and low that is emblematic of Charm City, creating an unexpected dialogue between local immigration history (Ulysses was the name of a ship that brought Bavarian immigrants to Baltimore), the emergence of the Streamline Moderne style, and filmmaker John Waters's legacy of celebrating camp and the aesthetics of trash.
"To me, a good hotel experience should be transportive. It should make you feel like a character in a play," notes Ari S. Heckman, partner and CEO of ASH. "One of the amazing attributes of hotels is that you are only there for a limited period. You can literally try on a new persona if you want to." Heckman continues, "Our job is to create a really good set and some really good supporting characters to transport guests."
Martin Brudnizki Balances the Theatrical and the Experiential
If there is one interior designer who harnesses the transportive capabilities of interior design, it's London- and New York–based Martin Brudnizki. The designer balances the theatrical and experiential through a combination of objects and materials that wrap around the guest like a costume. Known for creating atmospheric interiors for luxury hospitality projects such as New York City's Beekman Hotel, Brudnizki has most recently brought his romantic sensibilities to London's famed Dorchester Hotel.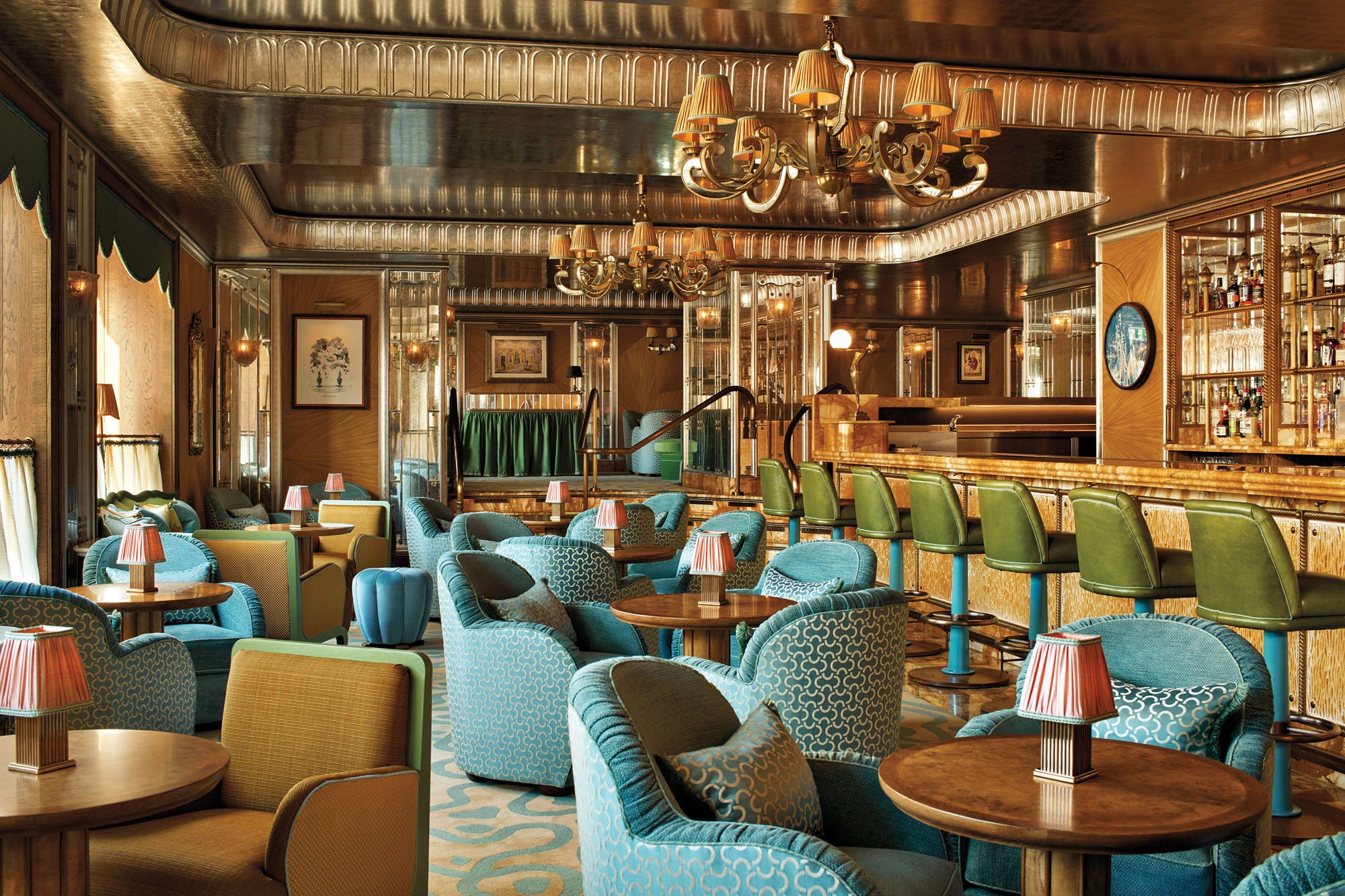 Says Brudnizki: "Memory and the feeling of escape are big parts of design." The design and history of the Dorchester specifically point to larger cultural shifts in pleasure, leisure, and escapism among the city's young bohemian aristocrats. Opening in 1931, the Dorchester quickly became a destination known for hosting Hollywood's elite and London's literati, drawing crowds into its Art Deco interiors for nightly jazz and cabaret performances as well as prestigious literary luncheons that still occur to this day. In fact, the intimate relationship between literature and interior design has been present at the Dorchester since its opening. When the hotel opened, the Dorchester privately published A Young Man Comes to London, a 49-page satirical romance by Michael Arlen that tells the story of two "Bright Young Things" experiencing the new Dorchester Hotel. Following the story were color plates showcasing illustrations of the interiors as well as other architectural explanations and insights. The Dorchester gave the publication to guests, and Brudnizki drew on its pages for inspiration.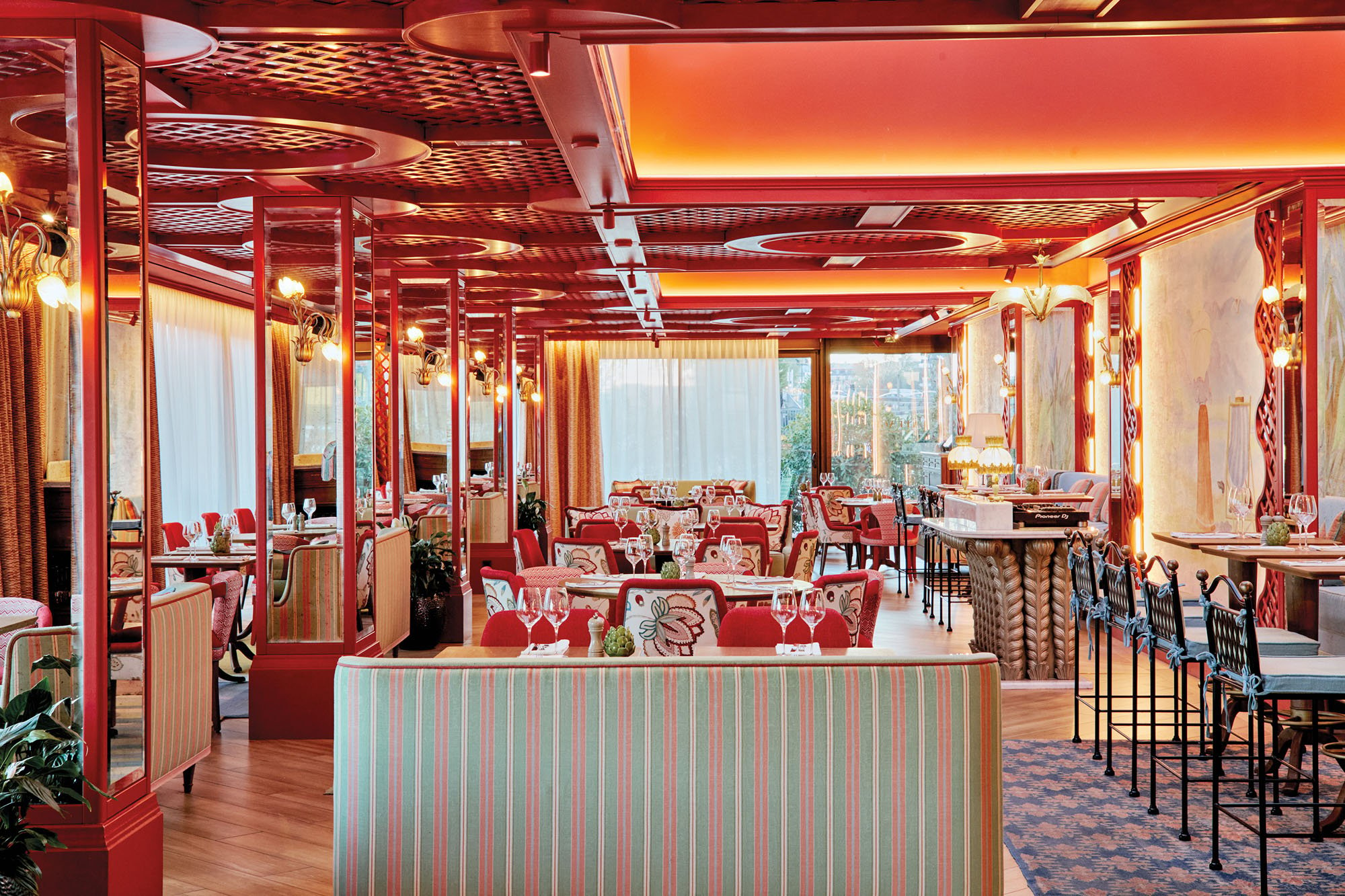 But Brudnizki tapped into the hotel's rich literary history in more ways than one. On the ground level, his design for the Vesper Bar is inspired by Ian Fleming's 1953 novel Casino Royale, in which James Bond awakens in a suite at the Dorchester. The 007-inspired cocktail lounge with dramatic palladium-leaf ceilings provides yet another layer of escapism to the hotel's interiors. But Brudnizki notes that when designing an element of escape, it also needs to be tied to the site. "The aim is to transport people but also ensure it feels contextual. You are essentially transporting people to another world outside of the streetscape but one that feels entirely natural and suited to the history and future history of that streetscape," he explains.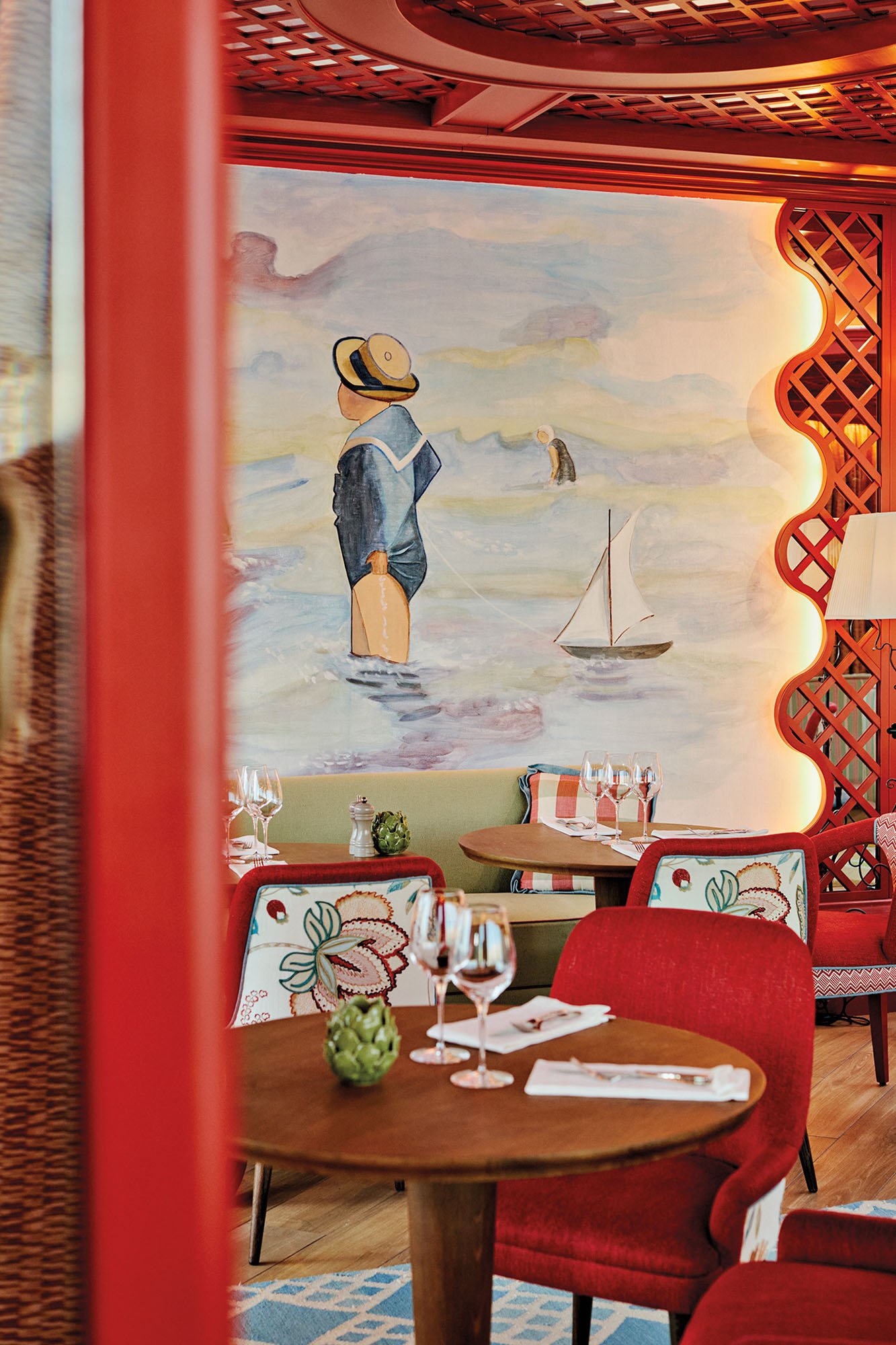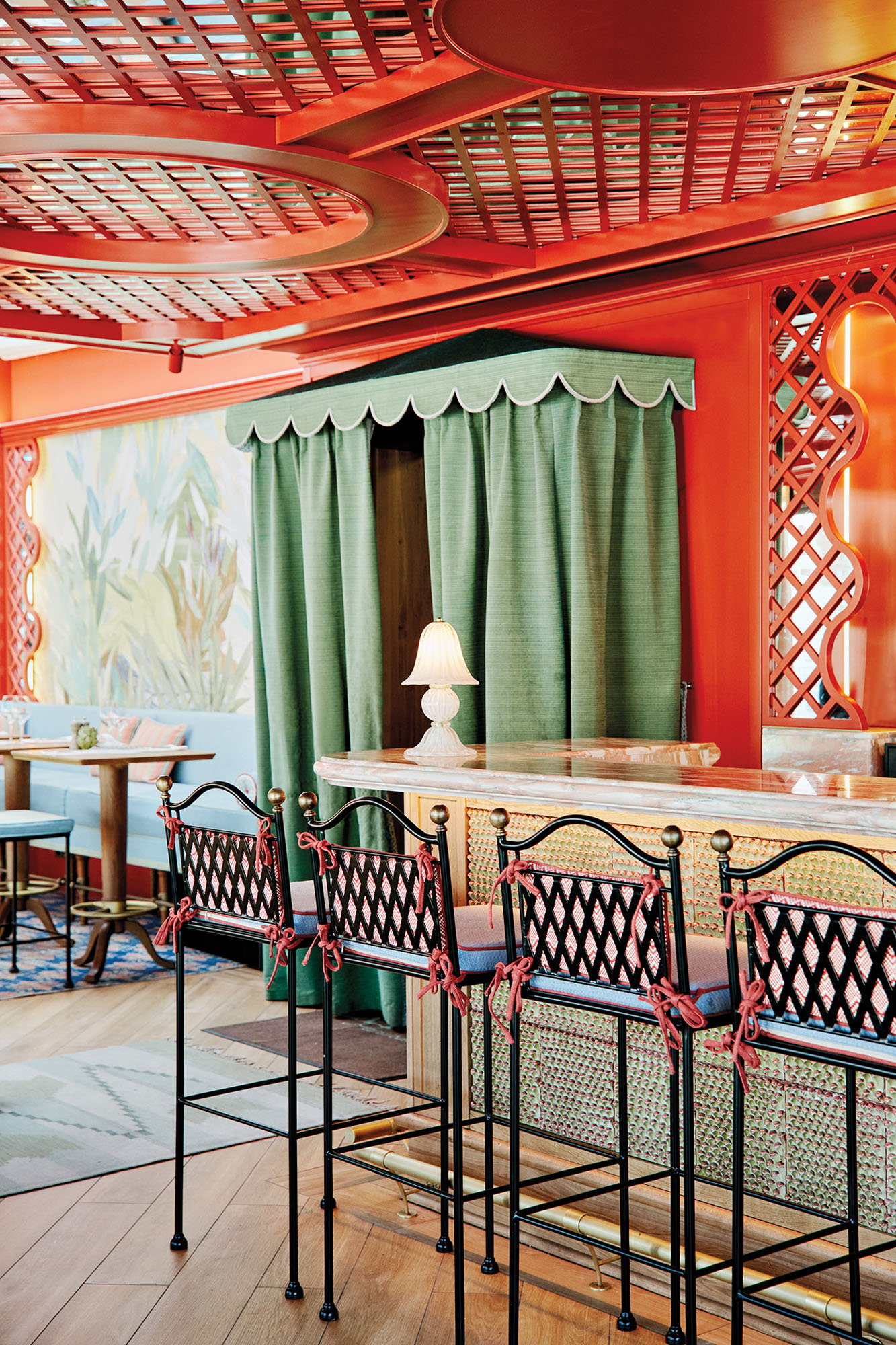 Reinterpreting History at The Ned NoMad
This thought process is particularly apparent in Manhattan's NoMad neighborhood, where Stonehill Taylor and Soho House Design Group have teamed up to transform the former NoMad Hotel into a private members' club and hotel called The Ned NoMad. The design of The Ned, located in the 1903 Beaux Arts Johnston Building around the corner from Tin Pan Alley, was inspired by the neighborhood's relationship to the golden age of music. Nowhere is this more apparent than in its Magic Room, a striking red lounge that places guests center stage in a contemporary reinterpretation of an Art Deco cabaret club. "The location of it almost makes it feel secretive—like a hole-in-the-wall club— and you immediately feel like it's a special, exclusive room and you were brought to an 'in the know' space," explains Marinda Thomas, interiors associate at Stonehill Taylor. "The stage and windows look out to 28th Street on Tin Pan Alley and bring music back to this street during the shows."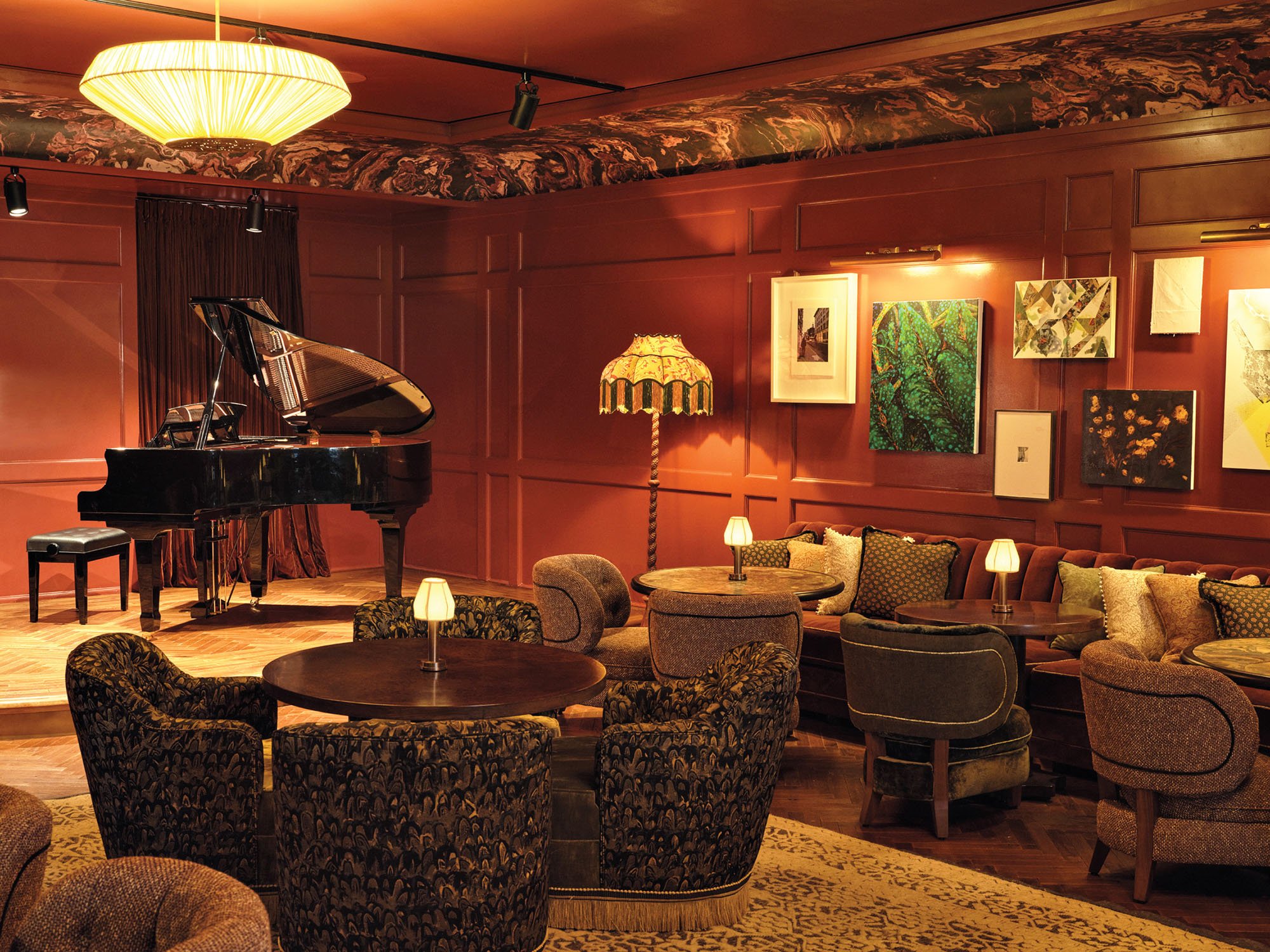 Blending Classicism and Camp at Bad Roman
Sometimes you don't need the historical context of a decades-old, landmarked building to craft a rich design narrative that immerses you in its world. Sometimes scenes must be built from scratch. This is what GRT Architects has done with Bad Roman, a modern "Italian" restaurant in Manhattan's Shops at Columbus Circle. Just as the menu turns tradition on its head, the GRT-designed space temporarily takes guests out of the generic SOM-designed shopping mall and into the enchanting red glow of what Eater called New York's most "unhinged Italian restaurant" of the year.
Like Ulysses, Bad Roman blends classicism and camp, where the firm's deep knowledge of contextually appropriate materials and ambient lighting becomes saturated with whimsical decor choices such as bright orange booths separated by statues of Italian greyhounds, a host stand guarded by a wild boar wearing a neon necklace, serpent-shaped doorknobs, fragments of 19th-century tilework, majolica bowls of fruit, and a women's room marked by a majestic mosaic fountain. GRT writes in a recent press release: "Minimal it is not, but the design of Bad Roman is unified by a high level of handcraft, and a say-yes-to-all-beautiful-materials attitude."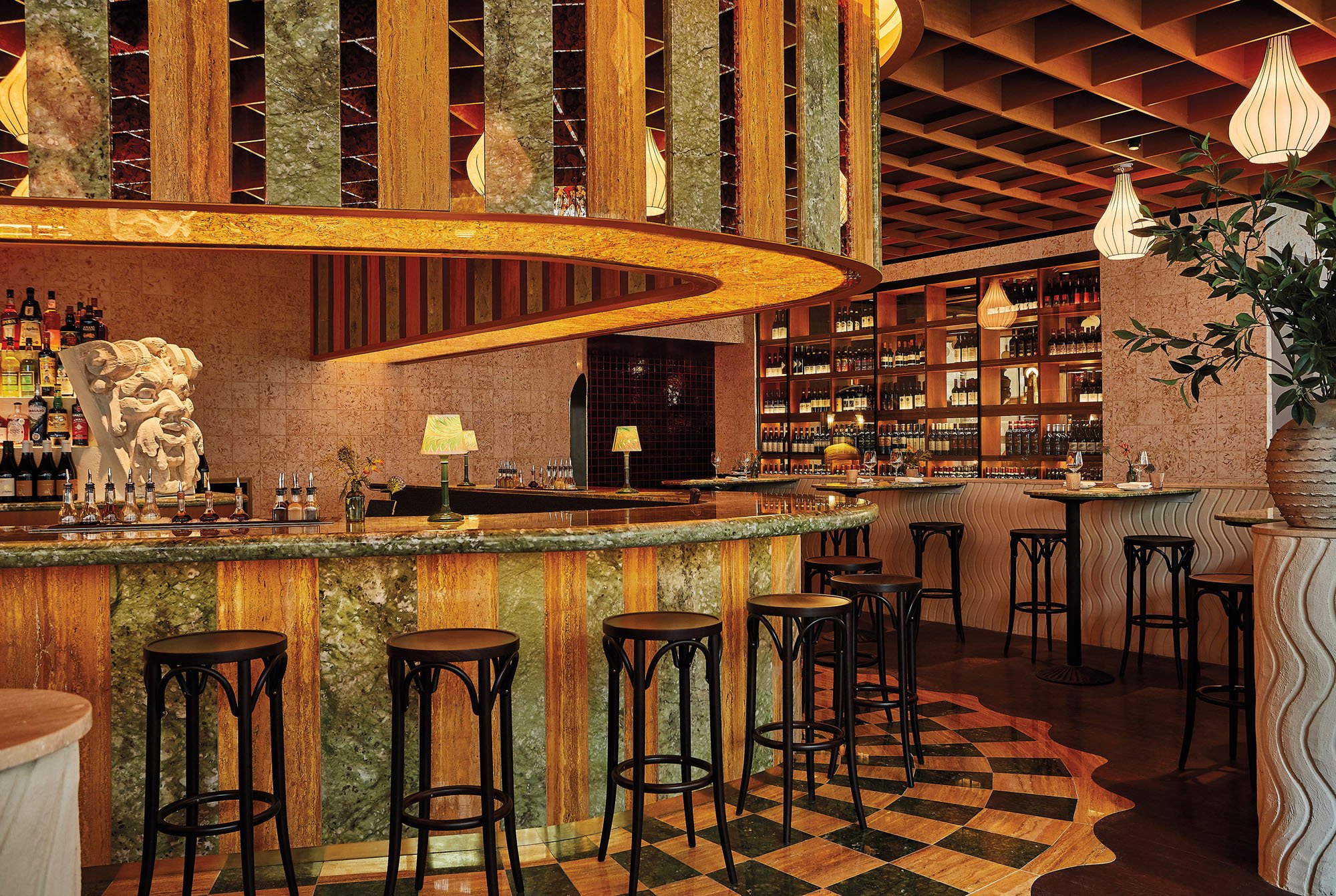 Would you like to comment on this article? Send your thoughts to: [email protected]