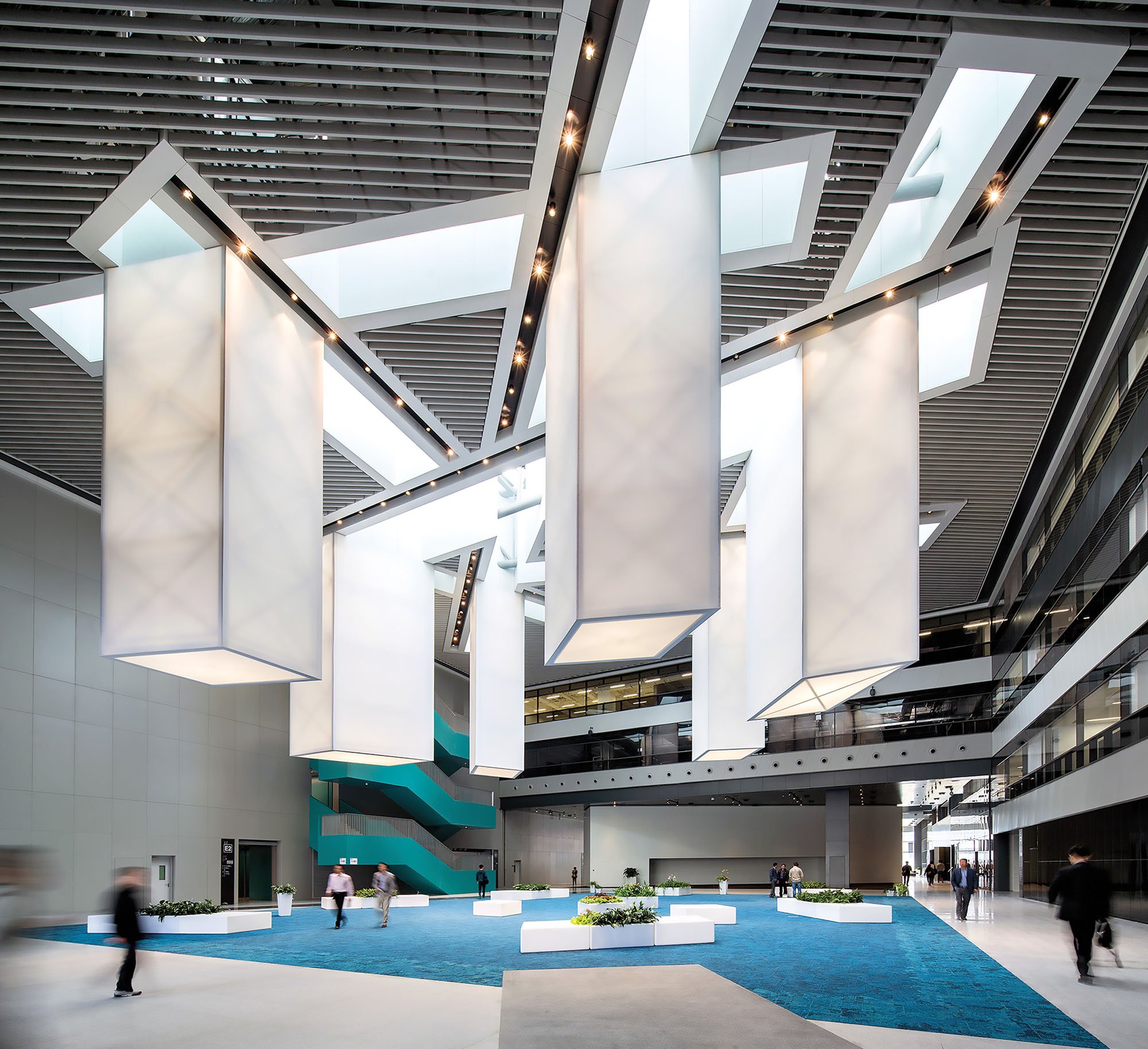 January 4, 2023
These 4 Workplaces Redefined the Office in 2022
Henning Larsen Builds a Housing Agency's New Home
The architecture firm collaborated with Denmark's chief administrator of social housing on a headquarters that reflects its mission.
By: Kim Megson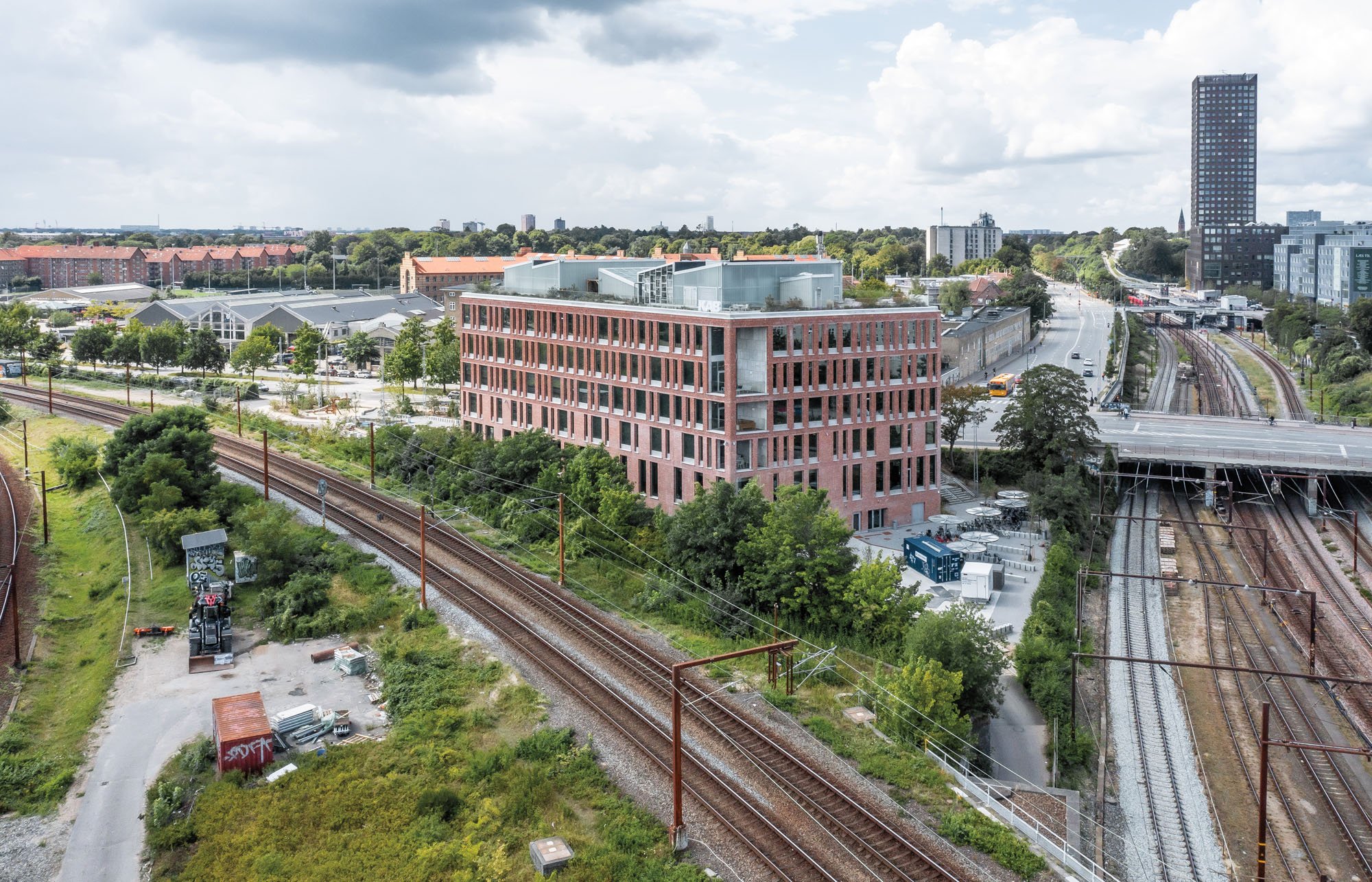 What is the future of the office in a post-COVID landscape? It's a dilemma that has been debated in news columns, academic think pieces, and virtual conferences the world over, and it has long intrigued Danish architecture firm Henning Larsen, which recently completed a project intended to merge home and office into one.
"We'd already been looking at people's changing work styles [before the pandemic] and how they use social areas in the office," says Troels Dam Madsen, Henning Larsen's associate design director, describing the behaviors that influenced the studio's design of a new 79,600-square-foot headquarters for KAB, Denmark's largest administrator of nonprofit housing. "Now with COVID-19, there has obviously been more of a cultural shift," he says….Read the full story here.
---
A Printing Plant Is Reinvented as a Multipurpose Workplace
EYRC forges a mesmerizing, flexible creative office space from a former Los Angeles Times printing plant.
By: Greg Goldin
It's surprising, if not unheard of, for a developer to pour more than $80 million into restoring and renewing a 1960s-era tilt-up concrete printing plant that, at first glance, is indistinguishable from its massive, and prosaic, neighbors in the flatlands of a commercial park in California's Orange County.
But Seth Hiromura, then with industrial property management company SteelWave, thought differently about the "historic ruin" in Costa Mesa. The original 361,000-square-foot building—really a sequence of buildings constructed over two decades—had been the Los Angeles Times' Orange County headquarters, designed by William L. Pereira & Associates, one of Southern California's preeminent midcentury architecture firms. The printing plant and adjacent newsroom closed in 2010 and were decommissioned in 2014. SteelWave bought them, and the surrounding 23 acres, three years later….Read the full story here.
---
A Tech Giant's Headquarters Is the Site of Environmental and Social Innovation
CallisonRTKL's design for computer-maker Lenovo's new campus in Beijing activates public space while earning both LEED Gold and the China GBL 3-Star rating.
By: Siyuan Meng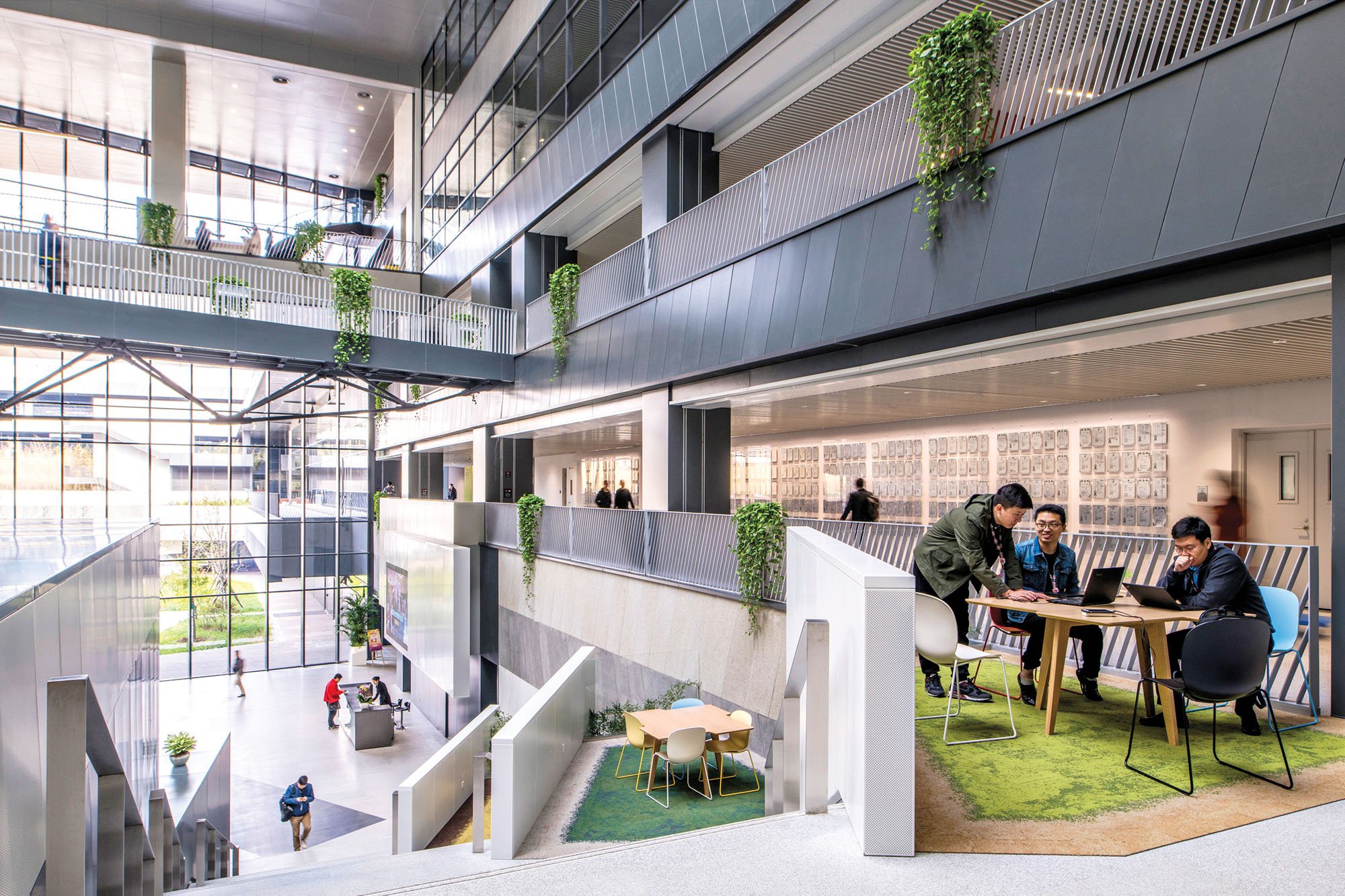 Located in ZGC Software Park, a sprawling suburban complex of offices and factories in Beijing, the Lenovo headquarters accommodates 13,000 of the global technology giant's workers. Designed by CallisonRTKL (CRTKL) and opened in 2018, the project is not only a milestone in the company's office design history but was also designed to serve as a catalyst for workplace and cultural transformation, before and after the COVID-19 pandemic.
"The facility performs more as a work in process, an open framework and mechanism that focuses more on activity and experiences," says Xiaoguang Liu, a principal of CRTKL. "It distinguishes itself with spatial and program diversity and a high level of urbanity throughout the campus," Lui adds. The result emphasizes interconnectivity, corporate responsibility, and vitality in urban public spaces.
A core virtue of the headquarters' design is openness. The architects programmed 50 percent of the project as accessible public amenity spaces for the community—an unprecedented example in the Zhongguancun science & technology zone, which, with a profusion of other tech giants, is often referred to as "China's Silicon Valley." The innovation lies in the spatial relationships between buildings and streets. Prior to the pandemic, these spaces were used to host community activities in the software park, from professional exchanges to fairs and sports events. "While the pandemic and restrictions are severely limiting social gatherings and communal activities, they also built up the desire and demand for [creative opportunities] throughout the early stages of the pandemic," notes Liu….Read the full story here.
---
Inside a Renewable Energy Company's Monochromatic Office
Axelrod Architects drew on a limited color palette and futuristic aesthetic to create a San Francisco Bay Area headquarters for Eolian, a major developer of solar and wind power facilities.
By: Lydia Lee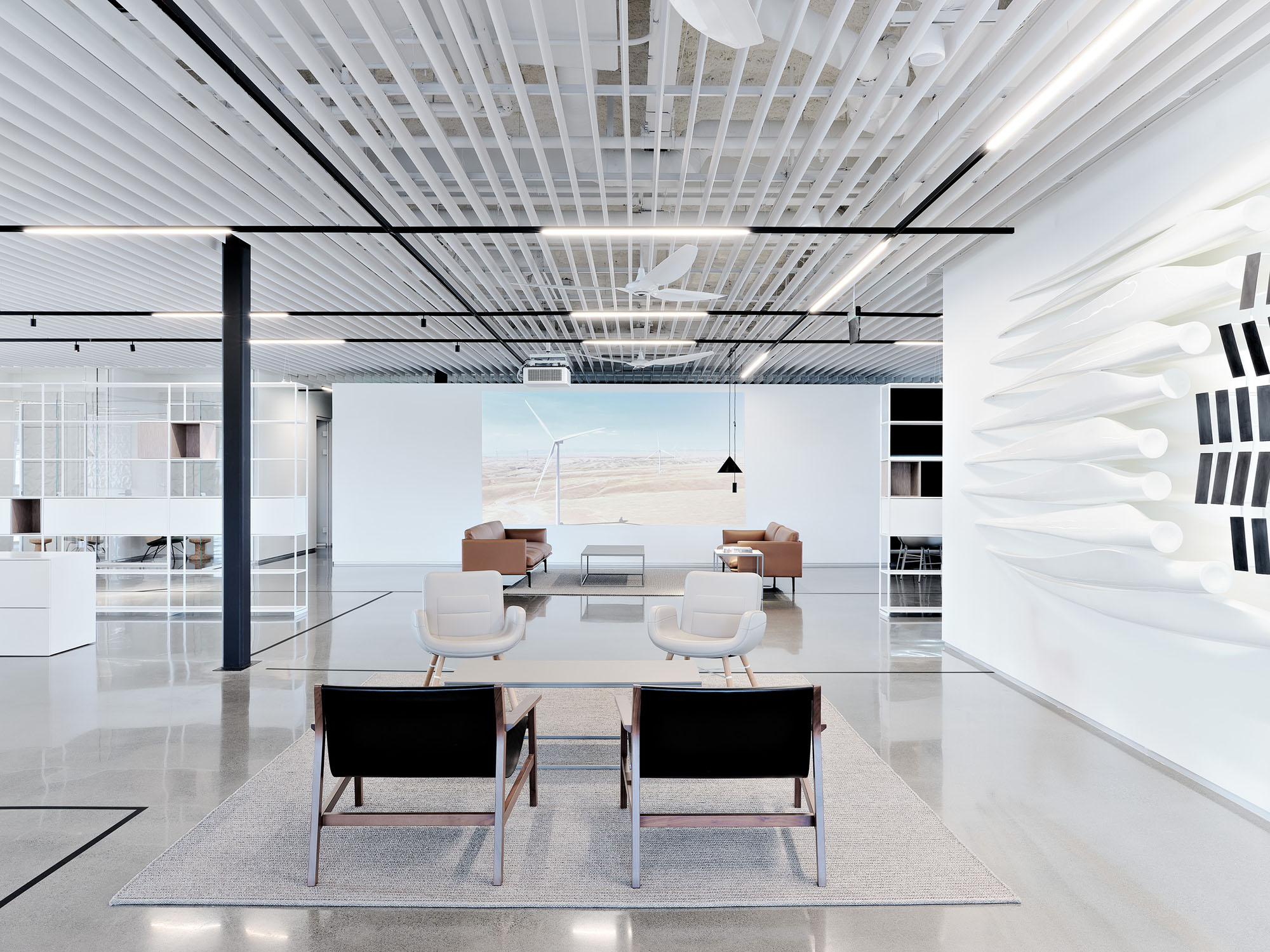 Minimalism can easily result in bland and sterile design. But San Francisco and Tel Aviv–based Axelrod Architects has demonstrated how the clean-lined, monochromatic aesthetic can be infused with meaning to create a compelling 15,000-square-foot office in the Bay Area town of Burlingame.
Its client Eolian is not your typical tech start-up. The privately held company is instrumental in the development of the United States' clean-energy and clean energy–adjacent infrastructure. For instance, over the past 18 years it has developed or funded about 10 percent of the country's utility-scale solar- and wind-power facilities. The firm recently moved to a new office that would end up marking its official break from a parent company that still had holdings in fossil fuels. Eolian's leaders tapped Axelrod to create a design that would represent its future-facing philosophy while incorporating visual reminders of its pioneering work….Read the full story here.
Would you like to comment on this article? Send your thoughts to: [email protected]